Aloha! Welcome to PUEO.
Perpetuating Unique Educational Opportunities for Hawaii
Education Benefits Everyone
The star finders of the future depend on our help today.
Latest Science News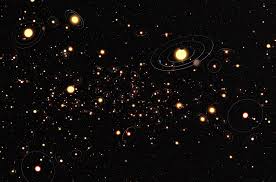 [source] University of Hawaii astronomers were part of a globe-spanning team that recently announced the discovery of more than 100 new planets orbiting stars beyond our own solar system. These new exoplanets, confirmed in part through observations made from Hawaii-based telescopes, reveal an unprecedented range of diversity in the places and ways in which planets can form. And the study's findings further raise the probability of the existence of extraterrestrial life. "One of my favorite quotes comes to mind, from Arthur C. Clarke," said Evan Sinukoff, a co-author of the study and a graduate student at the UH Manoa Institute for Astronomy. "'Two possibilities exist: Either we are alone in the universe or we are not — both are equally terrifying.'" This artist's concept shows a crop of more than 100 planets, discovered by NASA's Kepler Space Telescope. Those planets include four in Earth's size range orbiting a single dwarf star. NASA/JPL "We all know how easily fear can motivate people," he laughed, then added, "What keeps me going into work every day is my desire for exploration and the notion that I'm contributing a chapter to a journey thousands of years in the making … and coffee." The Flea And The Street Lamp To find these new planets, an international group of astronomers collaborated on a specific set of observations made with NASA's orbiting Kepler Space Telescope, launched in 2009. Sinukoff said they started by taking measurements of more than 10,000 stars, in five different patches of the sky, each of which they monitored for three months. They looked for specific changes in a star's brightness, potentially caused by an... read more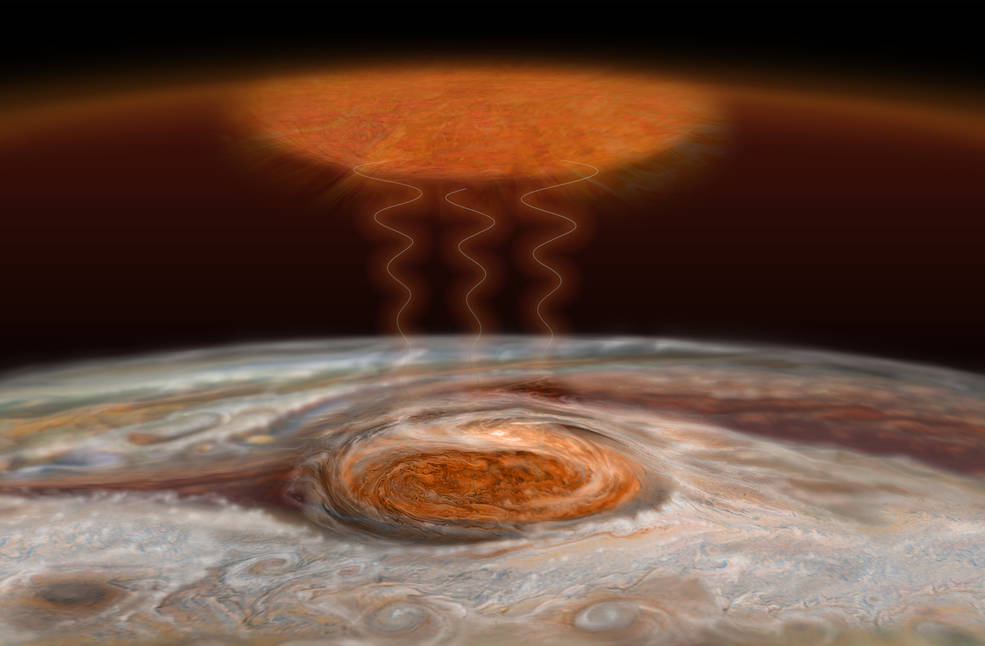 [source] New NASA-funded research suggests that Jupiter's Great Red Spot may be the mysterious heat source behind Jupiter's surprisingly high upper atmospheric temperatures. Here on Earth, sunlight heats the atmosphere at altitudes well above the surface—for example, at 250 miles above our planet where the International Space Station orbits. Scientists have been stumped as to why temperatures in Jupiter's upper atmosphere are comparable to those found at Earth, yet Jupiter is more than five times the distance from the sun. They wanted to know: if the sun isn't the heat source, then what is? Researchers from Boston University's Center for Space Physics set out to solve the mystery by mapping temperatures well above Jupiter's cloud tops using observations from Earth. They analyzed data from the SpeX spectrometer at NASA's Infrared Telescope Facility (IRTF) on Mauna Kea, Hawaii, a 3-meter infrared telescope operated for NASA by the University of Hawaii. By observing non-visible infrared light hundreds of miles above the gas giant, scientists found temperatures to be much higher in certain latitudes and longitudes in Jupiter's southern hemisphere, where the spot is located. "We could see almost immediately that our maximum temperatures at high altitudes were above the Great Red Spot far below—a weird coincidence or a major clue?" said Boston University's James O'Donoghue, lead author of the study. The study, in the July 27 issue of the journal Nature, concludes that the storm in the Great Red Spot produces two kinds of turbulent energy waves that collide and heat the upper atmosphere. Gravity waves are much like how a guitar string moves when plucked, while acoustic waves are compressions... read more
Local Events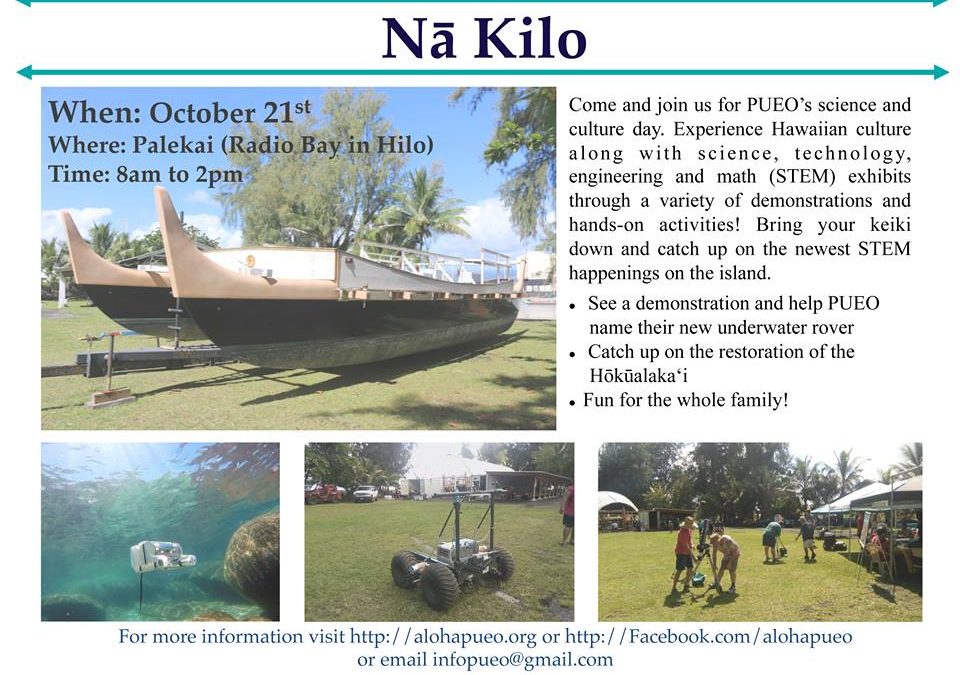 Nā Kilo is our cultural science event to get students of all ages interested and excited about science, technology, engineering and math (STEM fields).  Hawaii has many activities going on all around the island which lead the world in many areas.  This event is a chance for those people who are involved in leading such endeavors to show the public the kind of science they are doing right here in Hawaii. We invite people, groups and companies from all over the island to join us.  So if you're interested in participating, please contact us either through this site or on facebook or twitter.  The term Nā Kilo represents those who understand a certain field or trade to its fullest and most importantly expresses the ability to observe and to explore. Nā Kilo can represent the master as well as their learners in any given discipline. Perhaps you've not thought about all the STEM activities that take place in Hawaii but here are just a few we would like to highlight. ... read more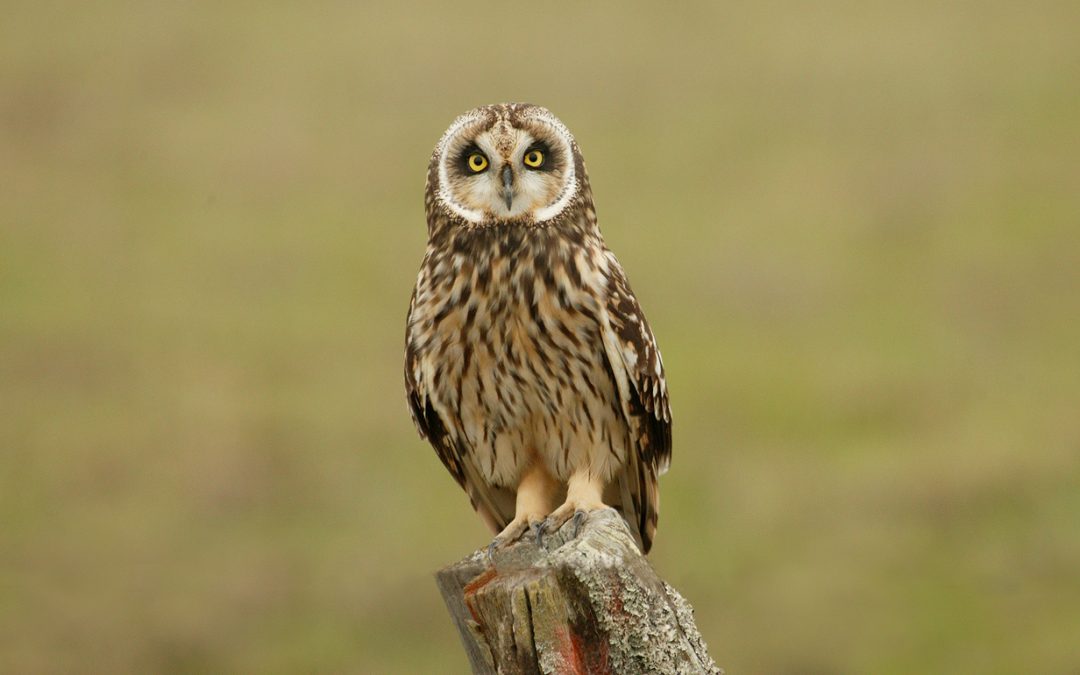 PUEO files official recommendations to the contested case for the construction of the Thirty Meter Telescope.
read more