Internship program relies on TMT: Loss of key contributor would impact aspiring scientists, engineers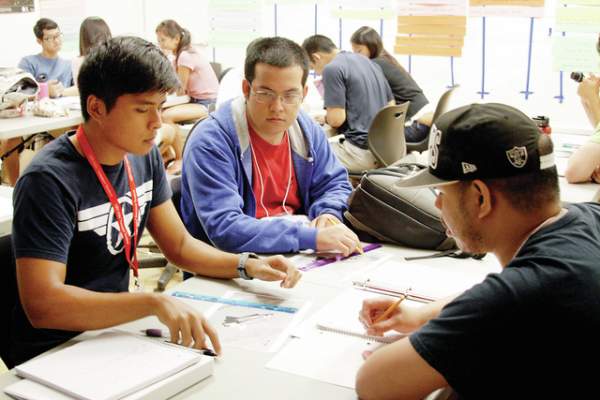 University of Hawaii at Hilo's Science and Technology Building was about as quiet as could be expected Wednesday given the summer break.
That's except for two rooms on the second floor where nearly 30 students were busy at work solving problems related to renewable energy and optics. And this was just the one-week preparatory course.
The students from across Hawaii next will spend seven weeks at telescopes or technology businesses in the state working with mentors and gaining some valuable real-world experience.
It's all part of the Akamai Internship Program that for 14 years has acted as a launching pad for aspiring scientists and engineers in Hawaii.
Akamai director Lisa Hunter estimates 81 percent of the 328 students who have come through the program have jobs in science and technology fields or are continuing their education.
But despite its track record, Hunter said the program could face significant cutbacks.
Since 2009, she said the program's largest contributor has been the TMT International Observatory, the nonprofit organization behind the Thirty Meter Telescope, a controversial $1.4 billion project proposed for Mauna Kea.
If the next-generation observatory, which has faced strong opposition from some Native Hawaiians who consider the mountain sacred, moves elsewhere, the program stands to be one of the most impacted.
"When TMT started contributing money, that pretty much rescued us from having almost no interns on the Big Island," Hunter said. "That was a big relief for us."
The $150,000 a year that TMT contributes makes up a third of the program's funding.
Additional funding sources include the Hawaii Community Foundation, Air Force Office of Scientific Research, National Science Foundation, Daniel K. Inouye Solar Telescope and National Solar Observatory.
Other telescopes provide in-kind contributions through offering mentors and accepting interns.
If the TMT funding goes away, Hunter said she would have to patch together the difference from multiple sources or cut back on the number of students.
That could mean fewer opportunities for Hawaii students to get their foot in the door in high-tech fields without having to travel to the mainland, she said.
Former interns who have returned as program instructors or managers say they valued the program because it gave them a unique internship close to home.
"It opened my eyes to job opportunities in Hawaii that I had no idea existed," said Austin Barnes, a 2009 intern who is now the program manager.
Stacy Sueoka, an instructor who is the optical systems engineer at the DKI Solar Telescope, another controversial observatory being built on Haleakala, said it helped her get the job she has today.
Jaren Ashcraft of Waikoloa, who attends Rochester College in New York and will intern at the solar telescope on Maui, said the program is an opportunity most of his classmates don't have, unless they live in big cities.
"It's the greatest I could hope for," he said. "It's home."