Maunakea Skies: Future of UH Hilo Astronomy Program Talk Aug 19th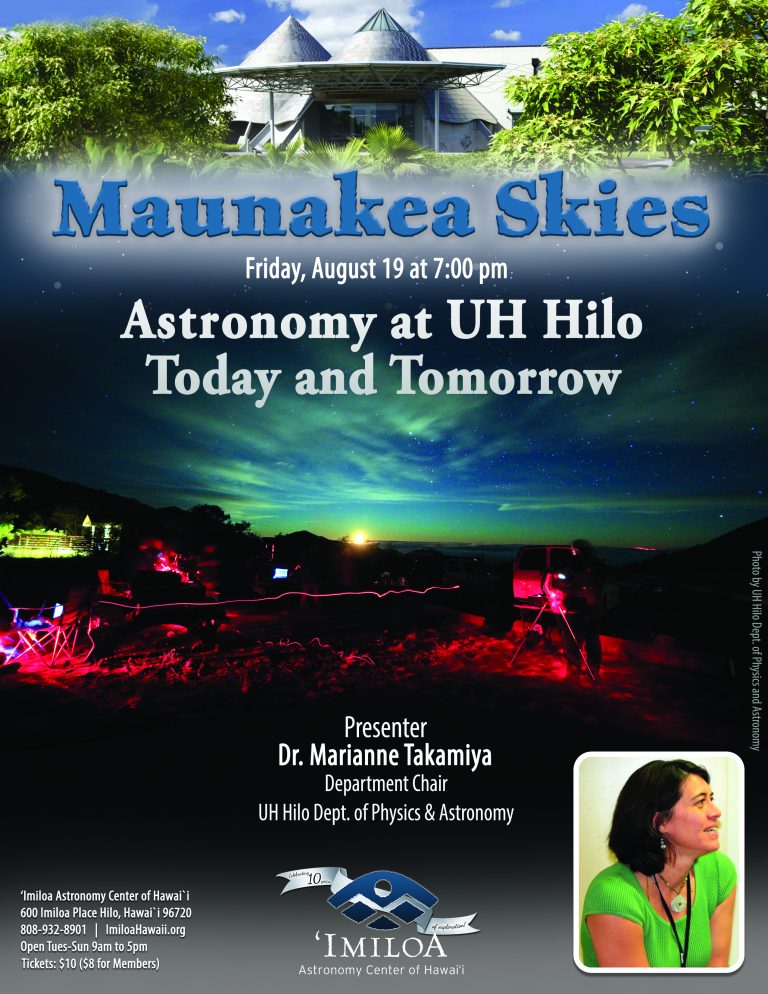 [
source
]
University of Hawai'i at Hilo astronomy majors will receive more hands-on telescope time than ever before as the result of a recent agreement between the Institute for Astronomy at UH Mānoa and the Department of Physics and Astronomy at UH Hilo.
These students have a unique opportunity afforded to few other programs in the country—the opportunity to study the universe in the world's largest observatories for optical, infrared and submillimeter astronomy on the 13,000-foot-high summit of Maunakea.
Dr. Marianne Takamiya, associate professor of astronomy and chair of the Department of Physics and Astronomy at UH Hilo will present an update on these and other developments in UH Hilo's astronomy program at 'Imiloa Astronomy Center's Maunakea Skies talk on Aug. 19 at 7 p.m.
"I will present the latest results of the research of faculty and students in astronomy, how our academic program has developed in the last five years and what we envision for the future," stated Takamiya. "UH Hilo has unique elements that can make ours a novel astronomy program that produces not only astronomers, but also skilled professionals who are able to work in complex systems."
Takamiya, who is an expert in physical properties of material between stars in distant galaxies, has presented throughout the US, Chile, Japan, South Africa and Europe on research she has accomplished using the Maunakea telescopes while heavily involving undergraduate students.
Takamiya is a graduate of Universidad de Chile and the University of Chicago, where she received her doctoral degree in astronomy and astrophysics.
She was one of the first Gemini Science Fellows at Gemini North during its commissioning phase and held a postdoctoral position at UH Hilo before joining its faculty.
She currently serves as the chair of the Department of Physics and Astronomy at the Hilo campus.
Maunakea Skies planetarium presentations are held on the third Friday of each month. General admission tickets are $10; $8 for members (member-level discounts apply). Pre-purchase tickets at 'Imiloa's front desk or by phone at (808) 932-8901.
'Imiloa is located at 600 'Imiloa Place in Hilo, off of Komohana and Nowelo Streets at the UH Hilo Science and Technology Park.
'Imiloa's monthly Maunakea Skies program includes observational highlights of the current night sky over Hawai'i, hosted by Planetarium Technician Emily Peavy. The audience can view prominent constellations and stars visible during this time of year.
The 'Imiloa Astronomy Center of Hawai'i is a world-class center for informal science education located on the University of Hawai'i campus. Its centerpiece is a 12,000 square-foot exhibit hall, showcasing astronomy and Hawaiian culture as parallel journeys of human exploration guided by the light of the stars.
The visitor experience is amplified with programming using 'Imiloa's 3D full-dome planetarium and nine acres of native landscape gardens. The center welcomes approximately 100,000 visitors each year, including 10,000-plus schoolchildren on guided field trips and other educational programs.
For more information, visit www.ImiloaHawaii.org or call (808) 932-8901.