Stellar student: Hilo native lands job with NASA lab before graduating college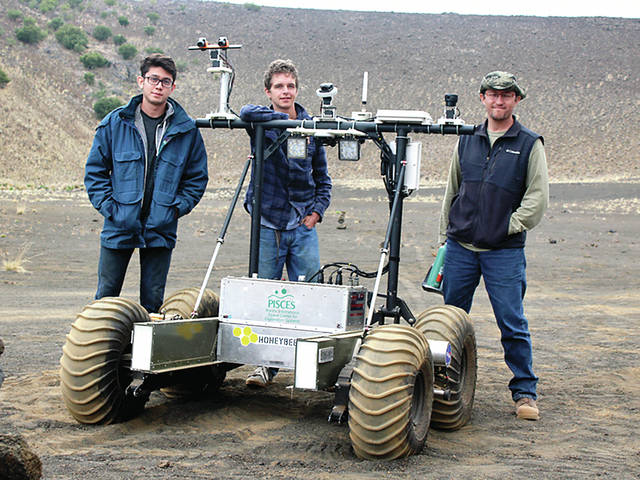 PHOTO — Aaron Roth, left, of Hilo, a senior at Arizona State University where he's majoring in computer science, is pictured with Jack Andersen and Andrew Hasegawa on Maunakea during a rover test drive as a PISCES intern.
By STEPHANIE SALMONS Hawaii Tribune-Herald | Monday, October 29, 2018, 12:05 a.m.
Aaron Roth is shooting for the stars. Literally.
When the 2015 Waiakea High School graduate earns his diploma from Ariziona State University next spring, the computer science major already has a job lined up — with NASA's Jet Propulsion Laboratory in California.
According to its website, the Jet Propulsion Laboratory is the leading U.S. center for robotic exploration of the solar system. It has 19 spacecraft and 10 major instruments carrying out planetary, Earth science and space-based astronomy missions.
Roth, who was raised in Hilo, said he has always liked computers, but Waiakea High's robotics program was a "huge, contributing factor that got me interested in everything."
He did well in robotics and even took first place in an international competition.
"Robotics was, like, behind my passion then PISCES got me really into space."
Roth interned for the Pacific International Space Center of Exploration Systems, a state-funded aerospace agency based in Hilo, during the summers of 2016 and 2017, where he worked on a stereoscopic camera system for the Helelani rover.
With that work, Roth said he was able to help provide anaglyphs of the things the camera captured and disparity maps, which help better gauge the distance of an object.
"Aaron interned with PISCES during two consecutive summers and completed some great work on our analog planetary rover, 'Helelani.' We are very proud of him and happy to be a part of the trajectory that led him to a position at NASA's Jet Propulsion Laboratory," PISCES program director Rodrigo Romo said in an email. "One of our goals is to help prepare Hawaii students to meet the demands of the highly competitive job market in the aerospace and technology industries. Opportunities for local students —especially at the college level — are few throughout the state, so we provide our interns with hands-on experience in unique applied research projects, as well as networking opportunities that can take them to the next level for education and employment in these sectors."
It's those connections that eventually led Roth to NASA.
Roth said PISCES was able to connect him with Jim Bell at ASU, who was working on the Mastcam-Z stereoscopic camera system for the Mars 2020 Rover.
Roth has been "working with them since like junior year in college," doing the same sort of work he did as a PISCES intern, helping operations with the camera.
This past summer, however, Roth interned at the with the Jet Propulsion Laboratory, after the JPL did an information session at the university. The speaker, he said, had also worked with Bell and sent Roth an application for an internship.
"My summer internship project at JPL was to create a testing suite that tested the code that processes the images received from the Curiosity rover and turns them into data products that can be used by scientists," Roth said.
A testing suite is a collection of test cases that are used for software testing, "and I was expected to make these test cases manually, but instead I created a script that created them automatically, saving a lot of time."
Roth said he liked the Jet Propulsion Laboratory and the people who worked there and "they were wondering if I wanted to come back." He completed multiple interviews before being hired.
He will be a computer systems engineer working with the operation product generation subsystem team for the Mars Science Laboratory.
Landing the NASA job "feels really good," and said his parents, Noriko and Mitch Roth, are proud.
"I feel like being in college, in this constant state of stress and (anxiety), having something ready for you just feels like all that stress and anxiety paid off," Roth said. "It feels good."
NASA, said Roth, was his "reach" goal, one "that I really wanted but didn't think would happen. My hard work during that internship really paid off."
Email Stephanie Salmons at ssalmons@hawaiitribune-herald.com.